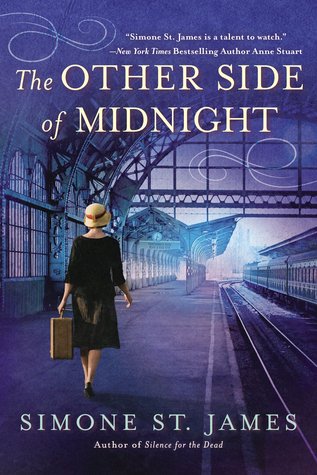 London, 1925. Glamorous medium Gloria Sutter made her fortune helping the bereaved contact loved ones killed during the Great War. Now she's been murdered at one of her own séances, after leaving a message requesting the help of her former friend and sole rival, Ellie Winter.
Ellie doesn't contact the dead—at least, not anymore. She specializes in miraculously finding lost items. Still, she can't refuse the final request of the only other true psychic she has known. Now Ellie must delve into Gloria's secrets and plunge back into the world of hucksters, lowlifes, and fakes. Worse, she cannot shake the attentions of handsome James Hawley, a damaged war veteran who has dedicated himself to debunking psychics.
As Ellie and James uncover the sinister mysteries of Gloria's life and death, Ellie is tormented by nightmarish visions that herald the grisly murders of those in Gloria's circle. And as Ellie's uneasy partnership with James turns dangerously intimate, an insidious evil force begins to undermine their quest for clues, a force determined to bury the truth, and whoever seeks to expose it…
Oh, Simone. I had such high hopes.
I love Simone St. James' books and had waited for this with bated breath. I then realised that I had an assignment due on the days following the release, so I had to wait even longer to be able to get stuck into it. The horror!
I think that maybe it was the high hopes that killed some of the enjoyment for me. If this had been written by someone else, I'd likely be saying very different things in this review. So I've left it a little bit to actually write about it, so that I could let my mind settle a bit… now that it has, I've noted more things that stick out as problems.
I've notice that St. James has a sort of penchant for dropping a heroine into weird situations, but not really having too many different characteristics to differentiate them from each other- they're all quiet, lonely, a bit on the weird side, have low self confidence and seem to need rescuing a lot. Ellie is not much different, except this time, she has psychic abilities, where the others were just your average female. She does get ballsy and is generally likeable though, so even if she's a carbon copy, she's a likeable one!
The male love interest was also a carbon copy of the others, except maybe Matthew in The Haunting of Maddy Clare, who had a bit more to separate him. James still had elements of his qualities- they're all sensitive, damaged war veterans trying to make sense of their experiences. It was great the first few times, but now she needs to move on a bit. But hey, in this one we get Merrikin back for a while!
I feel that the plot twist at the end was a bit convenient. I won't say it here, but it just made the whole thing fall in very nicely and I really didn't buy it.
As for the story as a whole, it was fine. I found it a bit difficult to suspend my disbelief at times, and it sometimes felt a bit rushed or too convenient, but otherwise it was good. Good, but not great, and certainly not in line with her previous novels, which I was literally glued to for their entirety. This one didn't have the same pull or the same element of fear and danger. I think I missed the ghostly threat too much to really get stuck into it. Yes, the human danger was pretty intense, but the others also had the supernatural element too. Yes, Ellie is a psychic, but her sightings of ghosts (that really did nothing) weren't all that scary. It did have elements of crime fiction though, which was interesting because I can't think of another book that combined all these threads in this way before… well, any that I've read, anyway.
The sex was toned down, but still sexy. I quite liked that it was there in small doses rather than being too influential on the plot or getting in the way of things- not that St. James ever does this, but other authors in this genre fall victim to it frequently.
Can I just say that I'm freaking glad she does stand alones? I'm so sick of series, I'm going to scream. It feels like every time I think a book looks interesting, it turns out to be the fifth in a series or some rubbish. Stand alone novels are the freaking best. St. James links with some recurring characters, but I just get excited to see old friends again in her case.
It pains me to give a somewhat negative review for Simone St. James. I'm just really disappointed in this book. It's kind of like the sadness I felt when I wasn't too crash hot on Kate Morton's The Distant Hours. It's a horrible form of bookish melancholy that I wish never existed.
Sorry, Simone. This time I'm just not sold. I have faith in you though!
If you are waiting to read this, or thinking of reading it, please do. If it was written by someone else, I'd probably say this was really quite good. It's just that I know she can be so much better that I criticise this one. If you're a historical fiction buff who likes a side of the supernatural, I couldn't recommend Simone St. James highly enough!
But hey! She has another book to be published in 2016! Someone help me pass the time while I wait…
3/5 Stars